ABOUT THE GAME :
Apache: Air Assault is a modern
combat flight simulation
game where players control a variety of lethal Apache attack helicopters outfitted with cutting-edge military weaponry. The goal is to prevent terrorist attacks by raining down destruction from above in the world's most volatile warzones.
The game can be played based on the player's tastes - Arcade Mode allows players to easily pick up the controls and jump right into the combat. The Realistic mode showcases the real depth of the title, where the dedication to realism and precision shines through. The local Co-op Campaign Mode lets two players team up in the same Apache with one as the pilot and the other as the co-pilot in a
joint effort
for a truly authentic combat flight experience. For those that want to go even further, Apache: Air Assault includes competitive online multiplayer matches such as Team Deathmatch, Ground Attack, Capture the LZ, and Ground Strike.
Apache: Air Assault features more than 16 multi-stage missions involving air and ground strike operations off the coast of Africa, the mountains of the
Middle East
and the jungles of Central America, each meticulously created using
high resolution
map data
from real-
world satellite
photography.
SPECIFICATION :
Title: Apache Air Assault
Platform: Game PC
Genre: FPS, Action, Vehicle Sim
Size: Unknown
Release date:
EU Release Date:
Nov-19-2010
US Release Date:
Nov-19-2010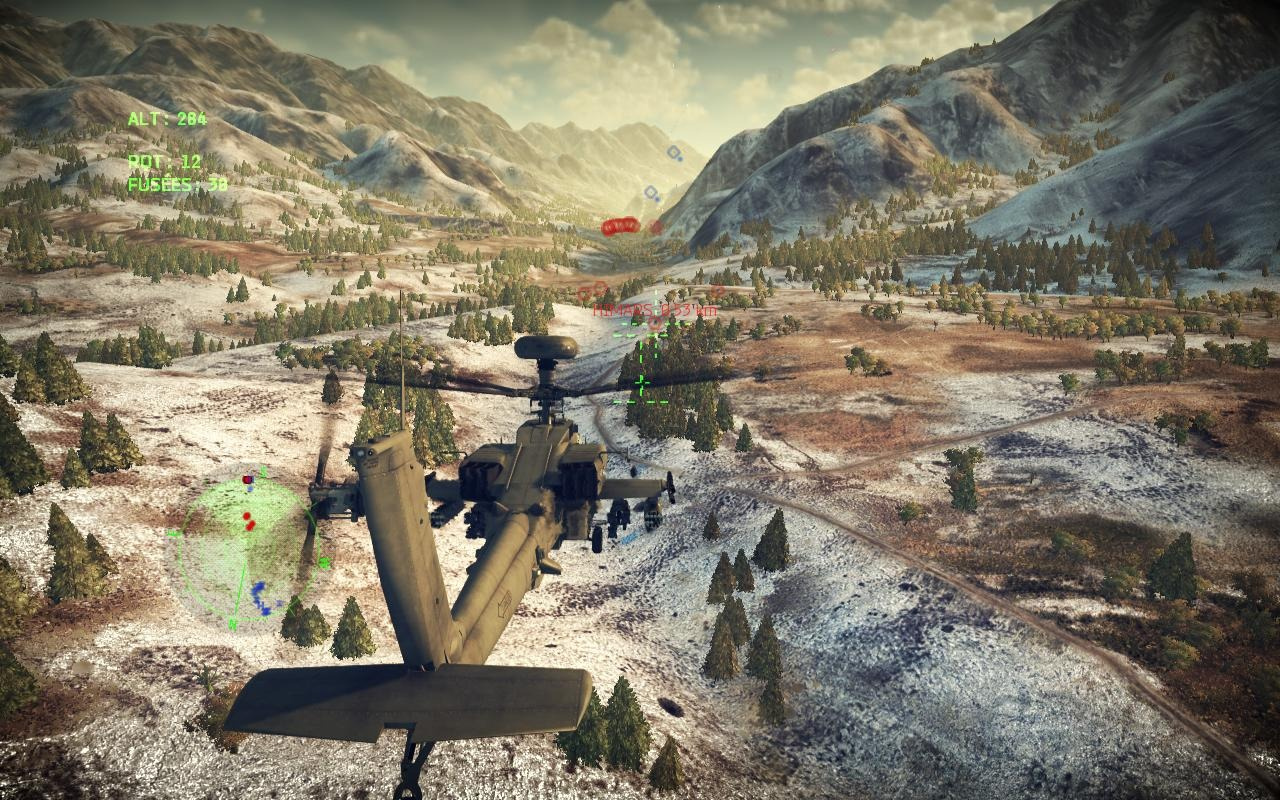 MINIMUM REQUIREMENTS :
OS: Windows XP/Vista/7
Processor: Intel Pentium 4/
AMD Athlon
Memory: 1GB
Hard disk space
: 3GB
VGA: 512MB NVIDIA GeForce/
ATI Radeon
RECOMMENDED REQUIREMENTS :
Processor: Intel Core 2 Duo 2400 MHz (or analogous)
RAM: 4096 MB
Graphics card: NVIDIA GeForce GTS 250 512 MB or ATI Radeon 4850 512 MB
Hard disk space: 10 GB free disk space for game files
Operating system: Microsoft Windows XP SP3 with DirectX 9.0c
Microsoft

Windows Vista

SP2 / Microsoft Windows 7
Sound card: DirectX compatible (AC'97 or analogous) with 5.1 channel support
Internet connection: 512 kbits/sec
Keyboard, mouse, joystick
The game is not guaranteed to run on integrated graphics adapters and
laptop computers
.
ATTENTION! ATI Radeon X2100 and older graphic cards are not supported by the producer when used with Windows 7.
* Experience what a real Apache pilots feel in a realistic cockpit with animated gauges, dials and buttons;
* Use the full array of real Apache weapons!
* 16 multi-stage missions with different landscapes from all over the world;
* Flexible difficulty
level system
: from arcade to realistic simulation;
* Realistic sound effects and original live orchestra soundtrack;
* Highly detailed locations;
* Dynamic lighting, volumetric clouds and explosions;
* yuPlay support: achievements, friends; (only for PC)
* Local Co-op Campaign Mode. (only for Xbox 360, PS3)
1. Mount with
daemon tools
2. Install Game via Autoplay
3. Copy crack to folder game
4. Play The Game
Download Game